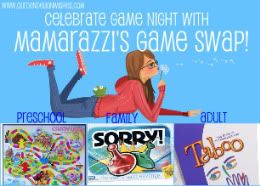 I have boxes and boxes of games in my basement. I need Brian to build me some sort of shelving unit to hold all of them. They are so much fun to play with the kids, with my husband, with the girlfriends, with other couples - just about anyone.
I decided to join Mamarazzi's Game Swap for something fun and different. It will get us some new game(s) that will be a surprise to me. I will be getting them in about two to three weeks and you better believe I will be making all my WA famiy play with me and then my WI friends will have to join in when I get back home.
Watch out everyone - here comes the fun!